In the Playlists section you can see and manage all your playlists or easily create new ones.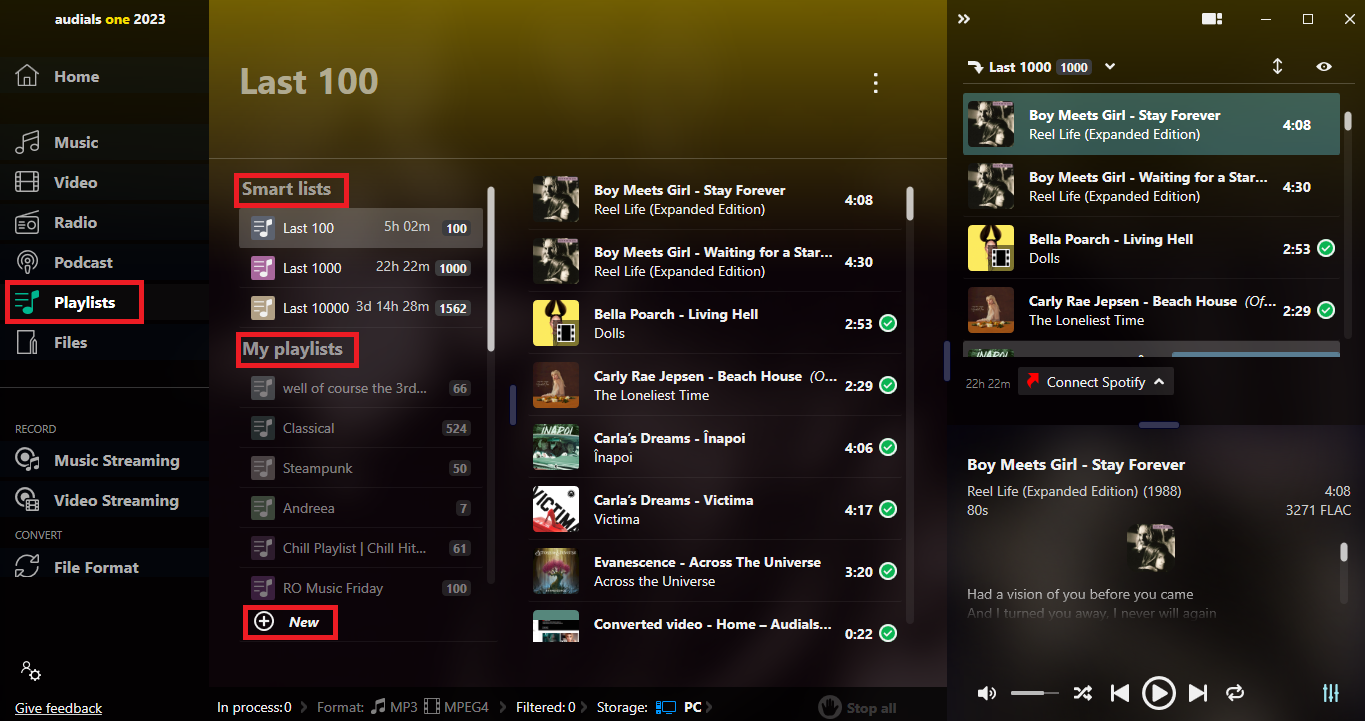 The Smart lists
The "Smart Lists" are added to Audials by default. They show you the last 100, 1000 and 10000 files that you have recorded from streaming services or from the radio.
My playlists
In "My playlists" you can see the playlists that you have recorded for example from Spotify with the playlists recording feature in the "Music" tab or the manually created playlists. More about creating playlists with Spotify:
Importing Spotify playlists as links
Where the playlists are also displayed
On the upper right part of your Audials screen, you can choose which playlist is shown. Audials shows by default one of the Smart lists (Last 100 is shown in the screenshot). By clicking the drop-down menu that shows the name of the list, you can choose which playlist is displayed.
Merging two playlists
In the "Playlists" view, click the playlist you want to add songs to.
Display the playlist you want to copy songs from on the upper right corner. To do so, click the drop-down menu in the upper right corner of the Audials window.
Press the "Ctrl" key on your keyboard and simultaneously click the songs you want to copy.
Click the "… " context menu of one of these songs, then click "Add to playlist" and choose the playlist where you want to copy these songs.
Like this, you can copy song links from a recorded playlist or songs that you have recorded as files.
Creating new playlists
By clicking ''+New" in the ''Playlists" menu, you can create a new playlist and copy songs from "Smart lists" or "My playlists" to this new playlist.