Use the Audials cut editor to edit the cut mark and fade-in/fade-out at the beginning and end of songs.
Please note
It is only possible to edit MP3 files.
Step-by-Step: Editing song beginning and end

1. Select a song in the upper right corner of Audials.
2. Click the context menu of the song and choose "Edit song beginning and end..." .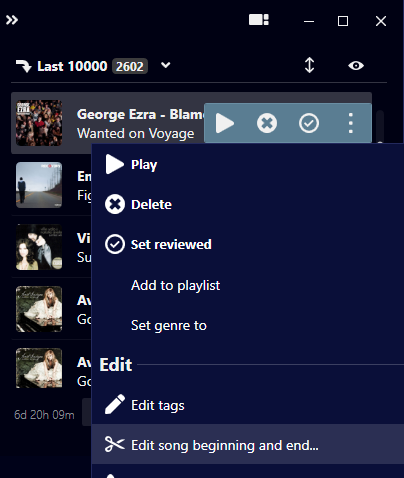 The cut editor opens. It displays the beginning of the song.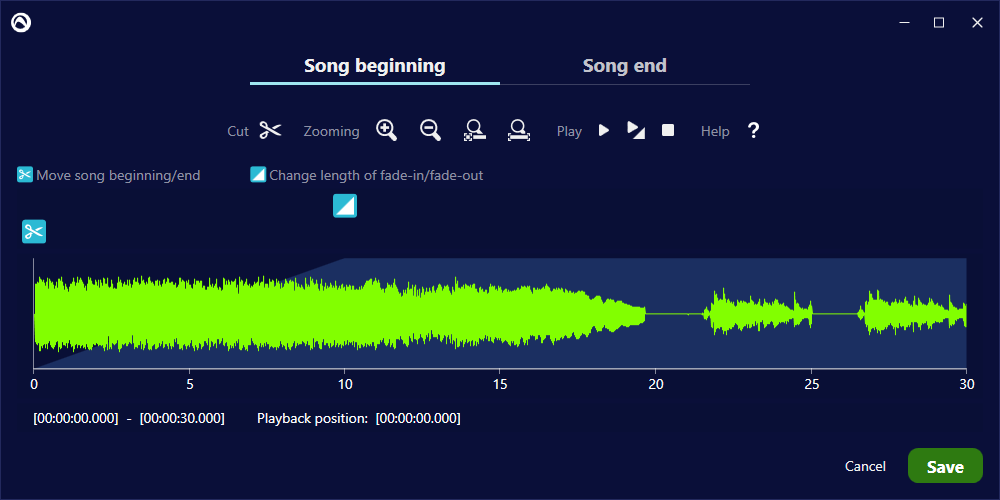 3. Optional: Click the zoom icons

to zoom in or out or click the further zoom icons to see the first 30 seconds

or the complete first half of the track

.
4. By clicking the play icon

, you can play back the song before editing. Click any spot in the audio track to set the position of the playback marker.
5. Move the light blue scissors

to cut the song at its beginning and move the light blue triangle icon

to adjust the duration of the fade-in.
6. Click the play icon with the tiangle

to test your editings.
7. Click "Song end" and repeat steps 5 to 6 to edit the song end, if needed.
8. Click "Save" when you are satisfied with the result.
Results
You can now play back the edited song in the player.